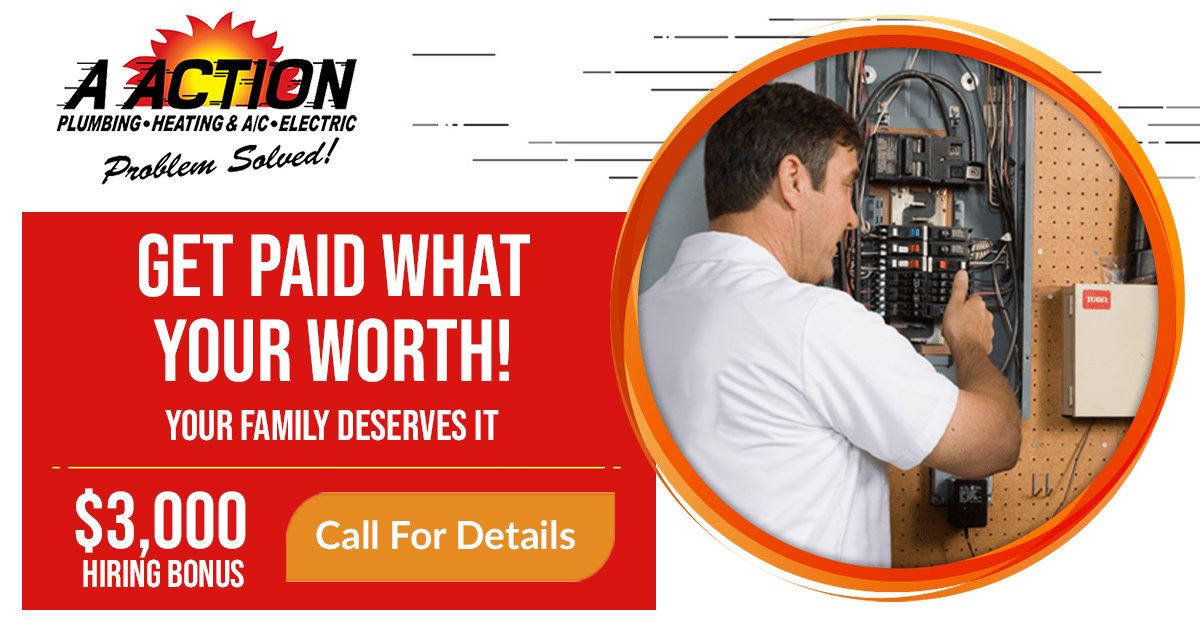 If you are serious minded and focused on building your income and career, I'd like to talk to you. My name is Kenneth. My father and I run a family-owned HVAC, plumbing, and electrical business in the Alexandria, Virginia area called A Action Home Services.
Our employees are the highest trained and highest earning technicians in their fields. They can work anywhere but choose to work with A Action Home Services for many reasons. In fact, let me give you 7 reasons.
One: We offer a standard Monday through Friday work week, or our employees can create their own work schedule. For example, some staff members prefer to have Tuesday and Wednesday off instead of Saturday and Sunday. This way each employee can have the all-important work / life balance that everyone looks for.
Two: Employees enjoy controlling their own paychecks and have unlimited potential for their annual income. We pay weekly to help with each family's cash flow.
Three: A Action makes sure employees are on top of their game. We provide our staff with one-on-one training to get them up to speed within our system and provide on-the-job training as well. We also provide tuition reimbursement.
Four: Tools are highly important to A Action. Without the right tools our company can't provide a quality product. We provide a line of credit for tools, so employees can keep their tool collection growing.
Five: Employees are assigned a company truck so they can dispatch from home. This way, they can spend as much time as possible with their families.
Six: Our Service Titan System is one of the big benefits our employees love. The company provided tablets streamline paperwork. Our customers love it too.
Finally, A Action welcomes other family first-minded co-workers. We hold honesty, reliability, responsibility, and integrity as high values. Plus, A Action Home Services is the perfect size - we are big enough to serve, but small enough to care. We serve our clients the way they need us to, while caring about their homes. We provide this service while providing a wonderful life for our employees and families.
If you want to build income AND a career… There's an opportunity waiting for you at A Action Home Services. You can call me today at 703.454.8898 or visit our Careers page.