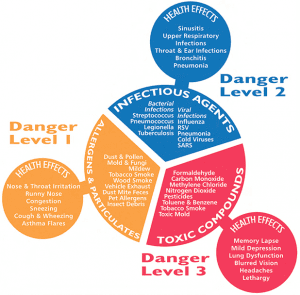 How much thought are you giving to the quality of the air in your home? Even the most conscientious homeowners probably find themselves too distracted with the other chores associated with homeownership to give their air quality much thought. However, that lapse could prove to be a big problem if left neglected.
When your indoor air quality is allowed to deteriorate, several issues can arise. You could experience a wide array of health problems depending on the contaminants that seep into your air. For example, mild pollutants like dust, pollen and tobacco smoke can lead to headaches, runny noses and other allergy-like symptoms. More severe toxins like carbon monoxide or mold could result in blurred vision, breathing problems and even lapses in your memory. And particularly during the ongoing COVID-19 pandemic, keeping infectious agents out of your home is a must. (Visit the Centers for Disease Control and Prevention website for more information.)
Fortunately, you don't have to sit idly by and wait for the air quality in your home or office to sink to dangerous levels. There are several indoor air quality systems in Alexandria, VA that can improve both physical and mental wellbeing.
Check your air filter
Over the life of your HVAC system, contaminants will flow through the air ducts in your home and cycle through your air conditioning unit. These toxins are stopped in their tracks by your HVAC system's air filter. However, these simple screens can only trap so many contaminants before they get clogged or torn. You need to replace your air filter regularly to ensure that doesn't happen.
An aloe plant
Looking for an inexpensive way to gauge the cleanliness of the air in your home? The leaves of an aloe plant will develop brown spots when exposed to poor air quality. That makes these plants one of the most useful organic indoor air quality systems in Alexandria, VA. Not only is an aloe plant easy to care for, but it can also be used to heal burns and cuts.
Install a carbon monoxide detector
Does your home have a furnace or a fireplace? If so, you run the risk of producing a deadly buildup of carbon monoxide, a colorless, odorless gas that could prove fatal in large enough doses. Fortunately, a simple carbon monoxide detector can alert you and your loved ones whenever carbon monoxide is allowed to build up.
Routine maintenance is your solution
Regardless of which indoor air quality systems in Alexandria, VA you adopt to improve the air quality in your home, the best means of making sure your home's air quality stays pristine is to enlist the help of a seasoned pro. At A Action Home Services, keeping you safe and comfortable in your home is our entire reason for being.
Since we opened our doors all the way back in 1976, A Action Home Services has offered a wide array of services to homeowners throughout the Alexandria area. In addition to our HVAC services, we provide top-notch electrical and plumbing maintenance, as well. When you want the best, A Action Home Services is the first name in the book.
Visit us online or give us a call today. We can't wait to hear from you.